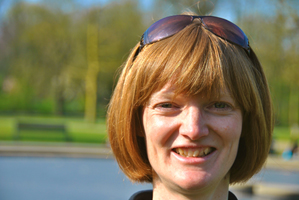 Boot Camp is an outdoor group training session lasting an hour. Classes are a mix of strength and cardio activities and all levels of fitness are welcome.
Location:
Vondelpark – At the children's play/pool area
Times:
Wednesdays – 9:00 a.m
€30/month/1 session per week
€15/session – pay as you go
*The first (trial) class is free.
*Personal training clients have the option to pay as they go at €10/session.
Subscribe with PayPal
€30/month/1 session per week
Payments will be automatically taken every month.
It is possible to cancel at any time but refunds will not be paid out.
Forget your misconceptions about boot camp and give this a try – Lorna has a calm, sensible and reassuring attitude to exercise ensuring that you never feel intimidated in a macho environment. Over the weeks my programme has been adapted as my fitness improves to ensure that I ache just a little bit after each class! And that feels really good!

Michelle
If you are looking for an alternative to your usual gym session, then I would definitely recommend Lorna's bootcamp! If like me you have spent the whole week planning your work it's so nice to just turn up and take part in a well thought out and planned outdoor training session. I find it very motivating and also fun training with other people and as there is a good mix of ability and ages I can feel comfortable training at my own pace but also find that I push myself when my competitiveness streak kicks in.

Chris
Please fill this questionnaire in before you attend your first Boot Camp class.