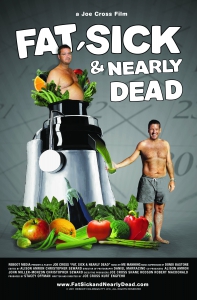 Last night, Wilson's Workouts came together with EatLiveLoveFood  to show the movie "Fat, Sick and Nearly Dead". This movie follows an obese and very sick man do a juice diet for 60 days. He travels through the US speaking to people about obesity and telling them about what he is doing.
I don't want to tell you all that happened (in case you haven't seen it) but what surprised me was how well such a diet works. I have always thought juice fasting was really irresponsible and that you have to eat real food. But I can now see its appeal, in the case of people who are so obese and sick, as it can really save them from an early death. That's not to say I have the knowledge to recommend it.
Afterwards we spoke about this approach and Joyce answered questions about it. Here are some of the points she made:
I wouldn't recommend a long fast as ultimately you need to include other elements in your diet for good health.
Additionally, it is difficult to maintain it as you feel the detoxing hangover in the first little while.
Unfortunately, people often go the opposite direction once it's over so a less extreme fast is likely more beneficial (the ideal would be to do as Joe Cross did, eat really healthy following the fast – so if you can do that afterwards then perfect).
Making a healthy fast a regular part of your health regime (several times a year for a few days) is a great way to kick-start healthy living and also helps you burn fat.
Personally, I can't imagine going even one day with only juice, but I have a juicer that gets used from time to time. Perhaps I'll dig it out later and take in some extra vitamins and let it supplement eating whole food ;) .
Joyce and I have a 6 week weight loss programme starting on the 19th of October, so if you would like to try a more sustainable way of losing weight that is designed to help you continue beyond the 6 weeks have a look here and send me an email to sign up.
Author:
Lorna Wilson
Like what you see? Then send me a message or e-mail. We can meet up for a chat and find out how I can help you improve your training and help reduce injury risk.
06 460 377 74 / lorna@wilsonsworkouts.nl