Book your FREE
Biomechanics Intake Now
Become supple as a leopard and strong as an ox, contact me for a free intake now.
What's the number one thing you don't get with a typical personal trainer?
A detailed and complete assessment of how your body functions.
This is a unique service not typically offered in other personal training environments and is particularly useful for sports-specific training, whether you're an aspiring marathon runner, an avid cyclist or a football fanatic.
However, don't be fooled into thinking that a biomechanics intake is only for the sport and exercise enthusiast.
Such a screening is an excellent starting point for those who want to combat the negative consequences of excessive sitting during office hours.
The knowledge gained from a biomechanics screening is used to inform exercise choices that will help improve your movement, performance, and reduce injury.
If you haven't heard of the benefits of biomechanics training, don't worry. You aren't the only one.
Most of my clients had no idea that this type of coaching was even an option. But now, they're definitely glad they have.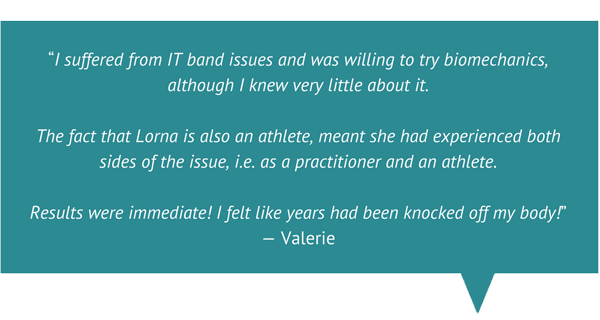 While many of us know the value of preparation for anything we do, not many of us consider the preparation needed for training itself.
However, this lack of prep for training often leads to sore lower backs, hip pain, knee issues, shoulder pain, and other injuries.
Such recurring injuries don't have to be the case. There is a way to have more confidence in your body's ability to perform.

"I wanted to thank you for helping me get back to the starting line! Sunday I ran my 1st race in almost 4 years.
I finished a 10k, and aside from soreness due to a hilly course – and not training on hills – I'm feeling good and could not have gotten to this point without your help and encouragement!"  – Paul
What to expect at your biomechanics intake
During your free 30-minute intake, I'll focus on the functioning of your pelvis.
Even the slightest tilt in your pelvis can result in movement inefficiencies that result in lower back, shoulder, and knee pain.
You'll then receive exercises that will help realign and un-restrict your body. In fact, in many cases, clients have experienced pain reduction from existing injuries after performing these exercises.
Check out the video below to get an idea of what an intake will be like.
Biomechanics training will:
Conserve energy
Prepare your body for the stress of weight bearing exercise
Allow you to train more with less stress
Reduce soreness, pain, and injury
Help you excel in both the short and long-term
If this sounds like something you want to embrace, then it's time to get started.
Request your intake now