If you are not interested in participating in competitive sport, you might look at my triathlon life and ask "Why?". Why do you want to spend so much time on it? Why go on holiday and still train? Why do you want to push yourself so hard?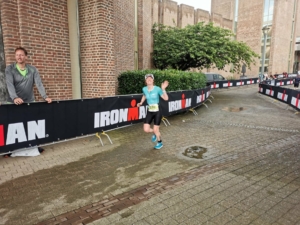 On the first of August, I completed my first race in almost 2 years, and I thought I would start by writing about "My why".
As you can imagine, whether or not races go ahead at the moment, it is always in the balance. But when I got the email that the Maastricht 70.3 was going ahead I had tears in my eyes. These were happy tears. I was going to race again! If you are a long time follower, you already know  I love doing triathlons, I love to train and I love to come together with others and race. 
I'm competitive and I want to do my best and see how well I can do against previous races as well as other women of my age. Having a goal to train for is a great motivator for me. I have a coach who writes my programmes and I love that I don't have to think about what I have to do. I train most days, sometimes twice a day (with rest days of course) so it is nice to already have it planned out for me. It keeps me structured in my day and I have to work everything around it. Because I am self-employed, every day is different. It is also nice to talk to my coach once a month and discuss how things are going and sometimes see what needs to be adapted to my life and energy levels. 
The latest race I took part in was a 1.9km swim, 90km bike and 21.1km run. As you can imagine, there are weeks of preparation leading up to this. I am never not training with triathlon as a goal but, as we came out of winter and made the decision to target this race, the training became more specific. My coach writes my programme in blocks with different goals, taking my menstrual cycle into account. Every fourth week my training gets easier to give the body the time to recover and be ready to go hard again. My lowest volume weeks are about 8 hours and the highest can be 12.5 hours. I need to manage what I eat, making sure to take in enough protein for recovery after big training sessions. And generally eating quality food that nourishes and repairs my body. I'm also very obsessed with getting enough and good quality seep. As you can imagine, some of these weeks create a lot of fatigue in the body and there are some weekends nearer to the race day where, after training in the morning, I don't want to do a heck of a lot more. When it comes to endurance sports there is a lot of low volume training but, there are also those tough sessions where you also have to draw on some mental strength as well as physical strength. There are some sessions I haven't managed to complete as I wasn't able to push myself any further. When this happens I have to be careful to not be too tough on myself.
The week of race day I start to write a kit list for the race and start getting things out for it. When you have 3 different sports to do there is a lot of stuff you need to prepare.  For this race I also stayed in Maastricht for a couple of nights which meant even more stuff and preparation. For some of the bigger events you already have to register and put your bike in the day before. This means that, if they are further away, getting there in advance makes it all run with a little bit less stress. 
For this race I was going to be travelling and staying there solo, that was a bit different for me these days. I took the train down and, I must say, once I arrived I felt already a bit less stressed than I did before I left home. 
The day before the race I got up nice and early and did a short bike ride and run. In the week leading up to the event my body felt like there was no way it was ever going to manage to cover a half ironman however,I felt good in these sessions. The rest of the day seemed to go by. I had to register for the event and, later take my bike and some of my kit to the transition area. Stickers needed to go on your bike and bags to ensure you get your stuff back. I caught up with a couple of club mates at registration, which was nice. Between all this I took the chance to catch up with what was going on at the Olympics. I ate dinner with another clubmate and then it was time to rest.
In the days after they announced the race would go ahead there were floods around Maastricht. It brought back the uncertainty of whether the race would go ahead or not. A couple of days before race day, they said they may have to replace the swim to a run because the water was moving too quickly. This was confirmed the night before. It was a bit of a disappointment but, of course, they have to keep us safe. I was therefore lined up race day morning to do a 5.3km run. It was the first time I have done a run-bike-run. I was pretty nervous about how my legs would feel for the second run but, once I started the race, I put all the worries behind me. Because this takes me around 5 and a half hours, the first run was actually not that bad. It was deliberately not my fastest pace, because I still had the bike and a half marathon to run. The bike leg had way too many corners to turn for the quality of my cycling so, I lost some time breaking too much into them. It was also a reminder of how long it was since I raced because, less than an hour into the bike, I was thinking that I still had over 2 hours to go! As we made our way back into Maastricht, and thoughts were to transitioning to the run, I had a puncture. I couldn't believe it. I did think about continuing on the flat tyre, as one of the Team GB ladies had just done days ago in the Olympic triathlon. But it was too much of an unknown so I stopped. And luckily (although not allowed) a man, clearly very experienced in changing an inner tube, changed it for me in record time and pushed me off on my bike à la Tour de France.
I made it back to transition and the run began. You always feel a bit strange when you start the run but, I quickly found my rhythm. We had 2 laps to run and it was an out and back so, I managed to see some club mates. Unfortunately we had torrential rain for the last 5km which made for very squelchy shoes that felt like they weighed a kilo each. With that and no supporters at the finish line, it was a slightly strange end to the race. But with all the glitches along the way I had an amazing day out and finished feeling quite emotional.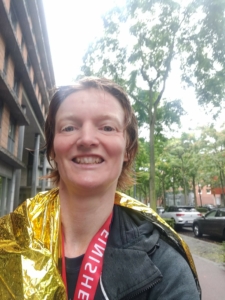 As you can see, when you choose to do something you love, you can work towards amazing experiences. You are willing to make yourself uncomfortable for the end goal. The feeling of achievement and the buzz of crossing the finish line makes it all worthwhile. 
Do you take part in sports? What motivates you? Do you like to compete or do you like to achieve your personal bests in the gym?
Author:
Lorna Wilson
Like what you see? Then send me a message or e-mail. We can meet up for a chat and find out how I can help you improve your training and help reduce injury risk.
06 460 377 74 / lorna@wilsonsworkouts.nl