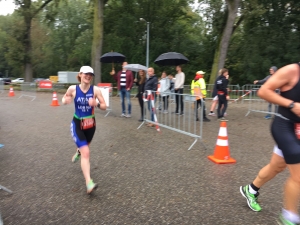 Last week I sent out the following in my newsletter leading up to the Bosbaan Olympic distance triathlon, taking place just a 15 minute cycle from home.
I'm exposing myself a bit in this month's newsletter.  The reason is that I am writing this before my last triathlon of the season and I really don't like to tempt fate.
But something amazing happened a few weeks ago. One of my friends, Izabela started training to become a Biomechanics Coach and finally I could be screened myself. Yeah!!! Up until now the main advantage I have found for myself was that I was able to keep myself injury free (you can read about that here) but I had only seen limited performance changes. Then after 4 weeks of simple exercises Izabela gave me based on the screening process (that I can't do on my own) I had such an amazing training week. This happened:
Since moving over to triathlon from running, I haven't managed to hit my old 10km pace in training. This has frustrated me no end! Last Monday I managed 2 out of 4 intervals averaging a touch under my fastest 10km pace. The other 2 weren't far off either.
Tuesday was swim training. Almost the same set as the week previous I was swimming 3-4 seconds faster per 100m.
Wednesday was a light workout in the gym but it felt so much smoother and easier than I had felt in recent weeks.
Thursday was an indoor cycle training. Normally when I hit around 178 bpm my legs are screaming at me to stop. I watched my heart rate move to 180 and then 181, 182 and 183 before I really started to struggle and I was therefore faster.
Friday rest day – whoopee!
Saturday – my bike ride was nothing to write home about but my run had me hitting my 10km pace time yet again
Sunday – Bike ride with my husband felt nice and easy
So, it feels like I am in good shape for my triathlon. Of course my biomechanics only makes up part of the picture, I still can't cycle round a corner without slowing right down and seeing several cyclists flying right past me and I need to stay healthy. Hopefully next month I will have a new story for you on how it went.
So, it was an early start with my husband leaving home for the first wave while it was dark and misty. I joined him about 20 minutes later to get set up and met many of my triathlon club mates who were also getting ready for the first wave. I felt like I was going to be the only one in the second wave, but it meant I could take a few photos of them and go with them to the start. Once I set them off I was able to get myself set up. I watched Brian come out of the water and then started thinking about getting my wet suit on. I did find some other triathlon club mates who were in my wave as well as a couple of other triathlon friends – that made it more fun.
The last triathlon I found it hard to get into my rhythm on the swim as I started in the middle of the pack and perhaps it was just psychological but I found it a bit aggressive as I was surrounded by men. This time I luckily met a friend and swim coach who I asked where to start, left of right. She told me left. I got in a bit late as it was cold and it gave me enough time to get to the left side with about a minute to the start. We got started and I had the perfect line in front of me and hardly had any collisions with other swimmers. I did push one man out of the way which makes me wonder what his post race story would be like :) Towards the end of the swim I found myself catching up with some of the swimmers in front of me. It made me feel strong and I assumed this meant I had kept a nice, steady pace.
Fairly slow transition to the bike. I look back and think how dumb I was to have noticed I still had the light on it that I had put on for cycling to the start in the morning and decided during the transition was the right time to take it off!! It was nice to see a physio from the gym I work at volunteering on the way out of transition (always nice to see a friendly face). I got stuck right into the cycle and the first lap felt great. After the first lap there is a little rise and I felt my legs start to burn. That made me question the pace I was going at but I kept at it and even though I was working hard, I felt great. We had 4 laps of an out and back to cycle so plenty opportunities to encourage friends also cycling as we went passed each other and also to shout for the wave before who were now running along the path next to us. My coach had been setting my Olympic pace workouts at 32 km/hr and I really questioned whether I could do this but into the third lap I looked at my average pace on my watch and it was sitting at exactly 32km/hr, that was a boost. For the first time since I started triathlon I was actually passing multiple numbers of men! It used to be quite something to pass one person. As I was cycling I was wondering if my super supporters Emma and Natalie would have turned up and on cue they were ready and waiting for me when I finished the bike leg. With a big smile I entered the second transition.
The second transition could also have been better. I struggled to get on one of my running shoes, but I got there and off I went. At the start I struggled to get my legs going. And you are always trying to figure out how much you can push yourself in case you blow up later on. I was determined to be faster than the last Olympic distance triathlon I had done which was a real slog. That time I was running at an average of 4:49 min/km so I had some work to do to be faster. The run was two laps of the rowing lake. This was one of those races where it become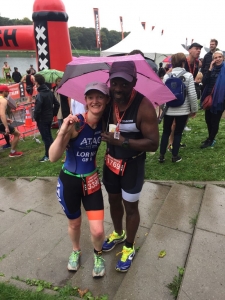 s more of a head game than anything else. The first lap I was pushing but being aware I had 2 laps to do, the second one trying to go for it a bit more. It felt as if the second was faster but in actual fact it had been a bit slower. I turned the corner to finish and Natalie, Emma and Brian were cheering me into the finish. I found a bit of a sprint to get over the line. I grabbed something to drink and eat and joined them all excited as I had finished in under 2:30 and I found out Brian had also improved considerably from his first Olympic Distance. All happy we went for something to eat.
Later I checked the results and was surprised to read that I was 6th lady! and 2nd in my age group. I have had a secret ambition of making it into the top 10% of women in a race so with there being 76 women racing and finishing I have finally made it!
Author:
Lorna Wilson
Like what you see? Then send me a message or e-mail. We can meet up for a chat and find out how I can help you improve your training and help reduce injury risk.
06 460 377 74 / lorna@wilsonsworkouts.nl