Having trained really hard for Boston Marathon I really believed my training would allow for me to beat my personal best from 2014 of 3:27 – unfortunately the weather had a different view.
We started race day early and the hotel really got behind it by providing an early breakfast. We were told to make sure we were in good time for the shuttle bus to the public transport as it could be busy. We got on with two others and got into town really early. I hadn't had a cup of tea at the hotel so that allowed me to get one at Dunkin Donuts and let Brian fuel up for his supporting duties :) We dropped off my bag for the finish. We could only bring what we needed during the run and any clothes we didn't need would be passed to a charity. So I saw people in dressing gowns, painting overalls, someone in a surgeons gown and even a lady in a fake fur coat!
Boston Marathon starts out of town and we ran back into Boston. We travelled there in the yellow school buses that you see in the movies. It seemed to take a long time to get to the start which is not the best feeling when you know you have to run all the way back.
We are held in the "athletes village" that is just a school playing field where we waited until it was time to start. There are many toilets and a couple of areas covered with tarpaulin that you could sit under. And given that it was already very warm I took the opportunity to be in the shade.
When it was our wave's turn to move to the start we were called and I moved into corral 7 that I was assigned too. This is the first time I have raced in a marathon where you had to prove what time you had run a marathon in the last year and were allocated accordingly. We moved downhill to the start and already the local people were out cheering us on. We passed by the type of wooden houses you also see in the movies. We were really out of the city now.
We gradually moved forward and crossed the start line. We were off. It was already 20 C as we started.
Before the race I had worked on a race plan because the course is hilly and my research found that there was a good strategy to follow to make sure you come out of the downhill ready for the uphills later on. Brian had been drilling me on what to do over the previous days so I started very conservatively right on plan even though it is tempting to pick up the pace on the way down hill.. I got a stitch in my side both at 2km and 5km but luckily given I was still fresh I was able to keep going without slowing much. The first 8km are downhill but I quickly realised that there were some small uphills thrown in. This would be fine for most people, but having trained in Amsterdam, adding 20 degrees and increasing I got a bit of a surprise. The heat got to me very early on and I started to feel weird even before I hit 10km and I knew that I would have to change my plan. I don't normally look at my heart rate but I had a look and saw that it was rising quicker than it normally would in a marathon and that was the indication that I would have to slow for me to get to the end.
The course runs through several towns and each one you go through is supported amazingly. Here are some things I saw on the way:
Kids jumping at the side of the road on small trampolines watching and cheering
A line of students screaming outside the Wellsely college for girls tempting runners on with the promises of kisses
Signs suggesting I was running better than how the government were running the country
People giving out ice and ice pops
I was drinking at every mile and at one point later in the race I took a whole bottle of water from someone. It was definitely the hottest I'd ever run in and there was hardly any shade on the route.
I was glad I learned the course as although I was finding it hard I knew when the hills were coming so I could mentally prepare myself for them. At around 17.5 miles there's a series of 7 finishing with the famous Heartbreak Hill. I didn't really keep track of them but I was proud to keep running when others started to walk. That was until I got to the bottom of heartbreak hill and I walked a few steps at the water station (I can't believe that the official photographers caught this moment!). I have never walked in a marathon before so it was a bit of a low point but using some mental strength I managed to start running again and I was literally talking out loud to myself getting from one road sign post to the next to make it to the top. It didn't actually feel like the worst. It was just tough because it was the last one.
Then it was more downhill from there towards the finish and I was able to pick my pace up again. I didn't do what I had planned for not only because it was hot but my quads were screaming at me. This last section takes you back into town and the crowds get even thicker and louder. It was amazing. I smiled the last few kilometres and took in the atmosphere. It really makes you feel like a superstar. I saw Brian at around 35km and had enough energy to give him a big wave and a smile. He was following me online and wouldn't have known how I felt about my drop in pace. He had seen on his phone that it was 28C but I am not sure if that was accurate. The news reports suggested it was 24C.
I crossed the line and felt such unbelievable emotion. For several minutes I just wanted to cry. I had made it despite the heat. I picked up my bag and went to wait for Brian to share the experience. I was so happy with how it went, it was the hardest marathon I had ever run. My number 3 goal for the race was to cross the line feeling like I had left it all out there and I absolutely had. My only slight disappointment is after all that training, I will never know how it would have gone if the temperature was lower. In saying that had I not trained so well it could have been even harder.
On crossing the line I realised there were runners in wheelchairs and other wheelchairs waiting. After meeting Brian we saw a runner who was very sick and we read that there were many people who needed medical attention and even some who had overheated and needed to be cooled down in ice baths. I was so glad I had made it.
True British style. Post run cup of tea!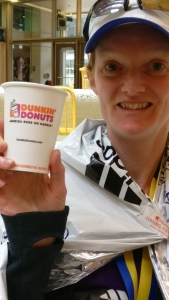 Author:
Lorna Wilson
Like what you see? Then send me a message or e-mail. We can meet up for a chat and find out how I can help you improve your training and help reduce injury risk.
06 460 377 74 / lorna@wilsonsworkouts.nl