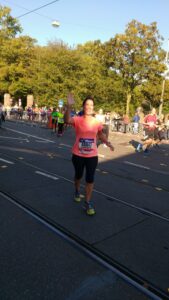 Meet client Natalie. Natalie started coming to my boot camp over 2 years ago. Over a year ago she also started personal training.
Natalie had previously been a kick boxer to a high level (1st degree Black Belt in the North West Chinese Kickboxing Association) in England. She trained for long hours and had some grueling exams. Since moving to the Netherlands her fitness levels dropped a bit and she wanted help to feel fit again. She suffered from discomfort in her hip so we started with checking her movement and worked on exercises to help her move better. Slowly, together with her having massages, this discomfort became less and less and now it is no longer a problem. We also found a bit of asymmetry in her movement coming from kick boxing being predominantly a one sided sport and we corrected that too. We were able to do all this while training on a regular basis.
6 months ago she mentioned that she wanted to run the Amsterdam Half Marathon in October 2016. Running this distance is a real challenge for someone who is more used to a power sport. However, Natalie had done some 5 and 10km races over the last years and went out running once or twice a week when she was living in England, so this kind of exercise wasn't completely new to her. Her goal was to finish the half marathon and her secondary goal was to complete it under 2 hours and 15 minutes.
So I set her off with a running programme and she took part in my boot camp once a week and we did a strength session once a week. Natalie was very dedicated and fitted her runs in round her busy life as a physiotherapist.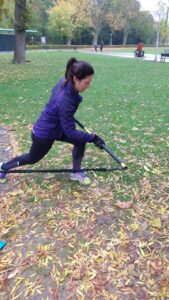 On race day she set off to the start and I was out supporting. I was able to follow her on the Amsterdam Marathon app. Her first 5km was in 28:39 which was a tad fast for her goal so I was quite a nervous trainer at this point. This was by far her fastest 5km of the half marathon but I was super proud that she streamed past me with a smile on her face with 2km to go still ahead of her goal schedule and she crossed the line at 2:08:15. Apart from pain in her toenails she suffered no pain after nor the next day. I'd call that a triumph!
It turned out that the first 5km and 10km that she ran was the fastest 5km and 10km she had ever run so all that hard work focusing on movement, strength and running had really paid off! And I am again a super proud PT.
Here is Natalie's own blog of her half marathon
Author:
Lorna Wilson
Like what you see? Then send me a message or e-mail. We can meet up for a chat and find out how I can help you improve your training and help reduce injury risk.
06 460 377 74 / lorna@wilsonsworkouts.nl