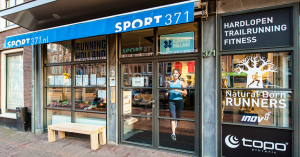 Date: Saturday 25 February 2017
Time: 11:30 – 15:30 / I'll be giving my presentation at 12:15
On the 25th of February I will be giving a free workshop at an Open Day at Sport 371. It will be a free practical session called "How to become a more efficient runner and reduce injury risk with Biomechanics Coaching". I will demonstrate how you can improve your running efficiency and reduce your risk of injury without having to train harder.
Western life means that we sit more and more and this has an impact on our movement. By changing how you move day to day and by doing specific exercises to help your muscles move more efficiently I can help you get closer to your running goals.
If you are also interested in more help with your running, there will be presentations from other professionals who work at Sport 371. AmstelFysio, Osteomed, Running Holland and Natural Born Runners will also be represented at this Open day. Come along and get some tips on both running, injury prevention and how to get back into running after injury.
Hope to see you there!
Author:
Lorna Wilson
Like what you see? Then send me a message or e-mail. We can meet up for a chat and find out how I can help you improve your training and help reduce injury risk.
06 460 377 74 / lorna@wilsonsworkouts.nl