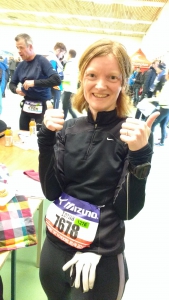 It wasn't my intention to write a specific blog on the Schoorl Half marathon. However, I was so pleased about how it went that I thought it deserved its own spot in my blog.
This race was planned in the agenda quite a few months ago. Because I had only done a few weeks of interval training and hadn't really raced since September (with one small cross-country-race exception), I really didn't feel ready for it. I had run the 30km version of this race in the past and loved it as the terrain has some dunes so a few ups and downs along the way. This year we had a lot of snow the day before so we were lucky that it had stopped and the organisation did an amazing job of clearing all the roads.
I travelled with a couple of friends, that always makes for a more pleasant and relaxing journey.
As per usual with this event I never seem to time it right to get myself to the start line in time. So I was just arriving at my pen when they opened the start of the pen behind me. So I slowly weaved myself closer towards the front as we shuffled forward to the start line. At one of the first corners I got a cheer from a client who was going to be running the 10km later in the day. What a lovely surprise.
The plan was to start running at my planned marathon pace. After 5km I was going to see how I felt and then pick up the pace a touch and see how that went.
The first section is in Schoorl, but as it is a small town you already feel that you are in the countryside. A lot of the run is through beautiful forest and just over half way you come out of the trees. The view was amazing, snow covered dunes and just then the sun came out.  I bumped into the boyfriend of a friend who was also running the 30km. We had a nice chat that helped with my motivation and also made me realise that if I was able to talk then I was keeping a very controlled pace.
At around 20km I thought to myself that if someone asked me to run 30km, I would definitely give that some consideration as I was still feeling strong.
I crossed the finish line feeling like it was a job well done. As I was waiting for my running buddy to finish I checked my watch. I had run one minute faster than the Barcelona half marathon the year before and my heart rate was lower. With both of us feeling proud of our results we headed to the shuttle bus for our trip home.
And now for the good bit. When I got home I checked the official results and noticed that I had finished third in my age group. I was really excited as whenever I had been on the podium before, it was normally when there were around 10 others in my age group. This was a much bigger event. A few days later I got an email asking me for my bank details for prize money and when I looked further I found I had free entry for other events that Champion run (including the DamtotDam) as a "Toploper" (top runner). So I'm feeling very proud of myself right now.
Author:
Lorna Wilson
Like what you see? Then send me a message or e-mail. We can meet up for a chat and find out how I can help you improve your training and help reduce injury risk.
06 460 377 74 / lorna@wilsonsworkouts.nl