We've just posted this new photo on the slideshow that's on the home page of the website. I was originally looking for a stock photo I could buy to demonstrate highly driven, hard working women with a slant on triathlon. It was really a challenge to find and I was disappointed to see this type of image highly lacking. It even caused some disagreement between the lovely Laura who works on my website and me.
In the end, I looked at my own collection of photos. My friend Jennifer is an amazing photographer and had come to a few of my triathlons so I was lucky to find a few that would work perfectly. I realised that my team mates identify with the image I wanted to portray and luckily they were happy for me to use it.
But that is not the reason for this post. I wanted to speak about some simple things you can do to improve at whatever sport you're doing – and I'll give myself as an example, using my newest sport – cycling (triathlon).
I am currently coaching half and full marathon runners with House of Running. For some, the sport is quite new, just as triathlon is for me, and I felt that my experience might help, especially as we recently we spoke about how to motivate ourselves during training and on race day.
The truth behind the photo
Those who follow me will know that cycling is my weakest element of the triathlon. This photo appears that I (at the back) am working with the team of three other girls and we are doing a great job. However, the reality was that once we turned the corner, the other girls left me for dead. Luckily, it was the first three women to cross the line that counted, and I had done my job in the swimming pool. This was early in 2015 and I have done a lot of work since (see here for my marginal gains post about my summer training).
My experience with training for triathlon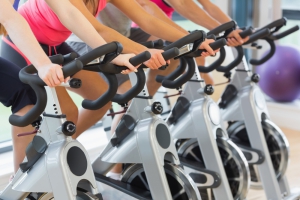 Over this winter I am training for the London Marathon but I am also keeping up my cycling, so that I am ready for triathlon training in spring.  I am happy to run in (almost) all weathers, but that doesn't go for cycling, which is why I've been going to spinning classes.  One of the first I went to was just horrible. I remember I sent my triathlon coach at Endurance Rebel a message, complaining about how we had had to do 120 rpm and how tough I had found it. I was hoping he would say how useless this was for my training, but in actual fact his reply was that he often recommended it to his clients who train on static bikes at home. Grrr!
So here are my recommendations for whatever sport you're new at: 
Suck it up
The reality of training to perform is that sometimes you have to do training sessions you don't like, that feel bad and where it seems like you're going backwards. This first session I could barely make 120rpm, but four or five classes later, it was a lot easier and I could hold 120rpm for a lot longer. I knew though that if I wanted to get better, I just had to get on with it.
Keep going back for more

One bad session doesn't make you a failure. I hadn't done a spinning class for months. It was horrible, but the only way to get better is to keep going back for more. The second class wasn't an awful lot better but now I feel progress.
Celebrate your achievements
On that first session the teacher shouted out the gears we should have been at. The whole session I was two gears below what she said. On Sunday I went again and mostly I was at only 1 gear below and sometimes I even managed to get into the range. In my mind I gave myself a fist bump and yelled yeah!! I was really happy with myself and acknowledged it.
Get your Intrinsic Biomechanics right
And if you are still struggling to improve, there may be something lacking in how you move. Get in touch by sending me an email and we can organise a screening and then help remove physical imbalances – so you can go further, harder and faster.
Author:
Lorna Wilson
Like what you see? Then send me a message or e-mail. We can meet up for a chat and find out how I can help you improve your training and help reduce injury risk.
06 460 377 74 / lorna@wilsonsworkouts.nl