Why you should join my boot camp
If you have been thinking about joining my class or are thinking of doing something to get yourself fitter, here are my reasons for joining my class: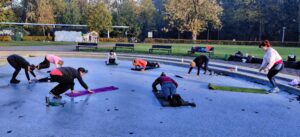 Community – the people that join my class tend to have been members for a long time. They want to train well but also come and meet familiar faces and have a social moment in their week. There is a feeling of being in it together and they like to motivate each other too. Some members turn up for each other as well as for themselves. New members are welcomed by all in the group.

Looking after yourself – boot camp takes a big part in working towards a longer and healthier life. By coming to my fitness class you are taking time out for yourself and putting yourself first.

Strength exercise that we do in the class helps you build your muscles. As we age, muscle strength deteriorates and we can slow this by working on our muscles. Being strong is so helpful in life and I think, psychologically, it is a good feeling to know that you are strong.


Cardiovascular training – benefits of cardio training include for example keeping your heart healthy, keeping your blood pressure in check and improving lung function.

Stress relief – training helps you focus on what you are doing in the moment. This helps you to forget about all the worrying things in your life and switch off that part of your brain. We live in a busy world, reducing stress is good for us.

Training in nature – for the clients who train outside, even though we are in the city we are still in the park surrounded by trees. This helps our mood and self esteem. To be around nature also helps some people with anxiety and issues from depression.

Online training – you can join classes from wherever you are around the world (and some do, I have clients joining from Scotland, England, France and New Zealand). I also have clients in Amsterdam who find it really convenient to train from home.

13 years of experience – I have been working in the fitness industry now for 13 years. I have worked with hundreds of clients and can easily adapt to problems you might turn up to boot camp with. If you are a new member I will ensure you are given the attention you need to get started in the group and to perform the exercises well. Even if you have never trained or haven't trained for many years, I can get you up and going in the class. You don't have to fear that you aren't fit enough or that you will make a fool of yourself. 
If you are still not sure that you want to work with me, come and try one session for free to see what you think for yourself. You can see the class times here and get your free session .
Author:
Lorna Wilson
Like what you see? Then send me a message or e-mail. We can meet up for a chat and find out how I can help you improve your training and help reduce injury risk.
06 460 377 74 / lorna@wilsonsworkouts.nl