The week leading up to lockdown in the Netherlands, I was preparing to go on holiday to Mallorca for a training week with my triathlon club. During this week my husband had sent me an account of a doctor in a hospital in Italy dealing with COVID cases, which was quite shocking. While I was pondering whether we should really be going on holiday (was it a responsible thing to do?). I was reading the WhatsApp messages of the people who were joining, and they were getting excited about it; however, I still had my doubts. 
The day before we were due to leave, the advice to go to Spain changed to negative and the lockdown in Spain was announced, so it was clear we wouldn't be going anywhere, Right afterward, Netherlands went into an "intelligent" lockdown.
I was instantly thrown into a week of not working but with a feeling that my whole business could be on the line (as well as all the other worries, but that's not what this blog is about). Luckily that decision to keep my week off work set the tone for the rest of the year, as I had time to figure out what to do.
On the first Monday evening of lockdown, I was invited to an online meditation on Zoom. This was a bit of a lifesaver, as I realised Zoom would be the way forward for my business. It saved me a lot of time looking for options. For some reason, this same week, we were sent a new more powerful modem for the internet – talk about timing! I got in touch with Veronica Guguian who helps me with my marketing, and together we came up with an action plan on how to organise and communicate to clients that we would be moving all the classes online.
I think she was having quite a stressful week herself helping all her clients do similar things. We pulled together a simple message telling people that we would be moving online and explained we would move forward. I also took this week as a chance to deliver resistance bands to clients, so they could continue to work out. 
One of the main things that helped me through this period was the feeling of gratefulness. Instead of always thinking about how bad it was, I was always feeling grateful that I could work, grateful I had clients and grateful for the people around me who were supporting me and being there for me.
For most of my clients, the switch to online classes was received positively and I had the feeling that the relationships that I had created with them over the months and years meant that they were both committed to their training and to supporting my business. I dropped off some resistance bands to clients and others sent me photos of what equipment they had at home.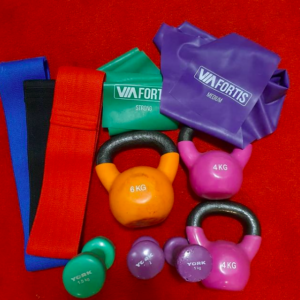 There were 3 clients who couldn't continue training with me as they were having difficulties in their own businesses (although 2 went on to join my group classes). All my group class members were also happy to continue online. Aside from this, I had 4 Personal Training clients who wouldn't be able to have online sessions due to how things were set up at home. They asked if we could go outside. At first, I wasn't sure as it didn't feel clear if that was permitted, however, in the end it was possible. It was too much for me to figure out training everyone outside so, I did that only when someone requested it.
At home, my husband was also working from home and we had to figure out how to work together online. After the initial fear of getting on each other's nerves, it turned into a lovely experience being able to spend time together without the normal busyness of life. He has been amazing allowing me to take over the living room while he mostly works from the bedroom.
The challenges as a trainer are that you have to get used to not managing to s
ee all sides of your client online and not being able to touch your clients for correction when working outside. But I think we (my clients and I) managed to work around that. The language I used and descriptions had to change a bit. Sometimes I take a video to show the client what they were doing so they had a better idea of what they looked like. After a few weeks, I managed to get myself into a bit of a rhythm with this new routine.
And then something wonderful happened. People who were used to training in groups in the gym got in touch with me asking me to join the online classes. Mostly, these are people who have worked with me in the past. Also, during this year, I have added a client each in England, France and New Zealand. And the best part, my sister joins once a week from Scotland.
Then suddenly in May, it was permitted to go outside again with the groups. This was quite a surprise to me and I decided to wait a couple of weeks until I started back again with the group. Luckily everyone in the group was understanding.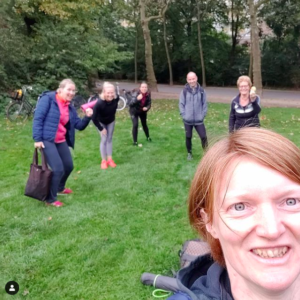 Some of them were also quite hesitant and were happy to wait. We started again at the start of June. Because the area we used to train in was busy with lots of groups – also some from gyms that were closed, we moved to a different location and I made sure everyone kept apart by setting out cones. 
I think everyone was very happy to see each other in person. Again, the format of the class changed with people working out in their own assigned spot. No sharing of equipment, no partner exercises and no mingling. 
Another change I had to implement, was for the Wednesday morning group. I split it into two smaller groups to keep things more manageable. At this point, I had a couple of extra members that joined who were looking for a replacement for their gym sessions (while gyms were closed). Alongside the outside boot camps, I continued with 3 online boot camps as they were proving popular.
Then the question was: when to get back to working inside with private clients? Gym Base (where I work) wasn't included in the gym ban as it is a private studio however, I had decided not to go back.
 I, therefore, started back only in June. This was pretty challenging for me to get ready for, after all, I hadn't been inside anywhere apart from my house and a supermarket since the beginning of March. We were limited to 3 sessions going on at a time in the gym and I had to get used to keeping space, which is so much easier to do when we were outside. 
Also, all sessions start on the hour, so it became a bit of a juggling act to move between the gym, outside and home for online sessions. Not all clients wanted to come back to the gym so there (as it is now) was a bit of a mix of where I need to be. Halfway through June, I had a bit of a wobble. Getting used to these changes took quite some effort and constantly thought. It was pretty exhausting. 
In July, we moved to 4 sessions taking place at any one time in Gym Base and for July, August and September, I managed to gradually get into a new rhythm. I still had to add my own swim and gym sessions around my schedule which was also a bit of a challenge. 
For my clients, I felt like sometimes the purpose of their training changed a bit. There has been a feeling that the mental benefits of training have become more important than before. For some, I have been the only external person they have been in contact with in real life rather than on video calls. Other clients have been working through other personal problems and I have been someone they can share with. In other cases, an hour of training helps them focus on something different than the challenges of daily life. There may have been a few more tears this year than others. 
In October I decided to move my two Wednesday outside classes back to the original one class. I managed this for two weeks when the government announced that we could only be with 4 people outside. This was another moment when I felt a bit broken by it all. 
I couldn't figure out how to make everything happen. However, luckily I have a friend trainer on the other side of town that was able to keep me up to date with the official guidelines. Later in the day, she told me that for training the 4 people didn't include the trainer. Then again later we found out that we could have multiple groups of 4 next to each other. Wow! This meant it was all back on again. I went back to two classes and made each a max of 8 people. 
During this period I invited people to join a challenge to train 3 times a week for 4 weeks. This was a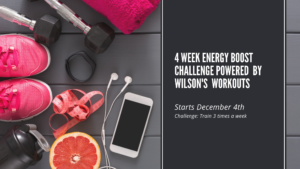 bigger success than I could have imagined. With the addition of a WhatsApp group suddenly people had a new support network and were encouraged to train more regularly, which also helped their wellbeing during this time. 
The next spanner in the works was the temporary lockdown in November that was for 2 weeks. Only 2 people were allowed to be outside together. At first, we could do multiple groups of 2 next to each other, then this rule disappeared. Although some other businesses continued training outside anyway, I decided to respect the rules and move back to online. Again I was so heartened by my clients who took it all in their stride and joined online, even though I know they preferred to be outside. We did have one participant who did it from her garden.
As I am writing this, there is news that the corona numbers have gone up once again and the government is discussing some more measures. I am getting ready for more changes which I can now handle but, it always feels like a bit of a letdown to clients if I can't provide what they really want. 
Although this year has been a challenge, it has mostly been positive for me. I have been in the privileged position of supporting many people and I am also seeing people in person way more than others which helps me socially. My business has flourished and new opportunities have opened up. Online group training has been an unexpected success, including people managing to keep training on holiday during the summer and when they go and visit family in their home countries. On top of this, I have just taken on a new online client in Jakarta! I am very appreciative of all my clients who have been able to adapt to all that was thrown at us and keep the focus on their health and wellbeing.
Author:
Lorna Wilson
Like what you see? Then send me a message or e-mail. We can meet up for a chat and find out how I can help you improve your training and help reduce injury risk.
06 460 377 74 / lorna@wilsonsworkouts.nl