Towards the end of last year I was honoured to be put forward for the Dutch Fitness Awards for the title of best Personal Trainer in Amsterdam. To win this award it was required to receive votes from the public.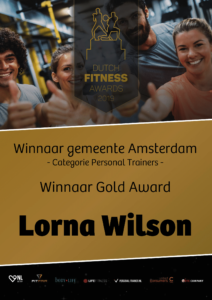 I decided to take part and, of course, asked all my past and present clients to vote for me. Luckily I have a lot of happy clients, as well as clients who I have worked with in the past who were more than willing to take a few moments out of their time to vote for me. Everyone gave me good scores, so it really emphasised that they are satisfied with the service that I provide(d). I really enjoy what I do and I love to be able to help people get fit, stay fit and get fitter. 
In the end I was a winner of the Gold award for the Amsterdam area for 2019. Thanks so much to everyone who voted for me. It is really special to be recognised for a good year! 
Author:
Lorna Wilson
Like what you see? Then send me a message or e-mail. We can meet up for a chat and find out how I can help you improve your training and help reduce injury risk.
06 460 377 74 / lorna@wilsonsworkouts.nl