I created this video to help people with the movement of the lower back. Many of my clients, when moving move to the side as shown in the below picture, have very little movement in the spine: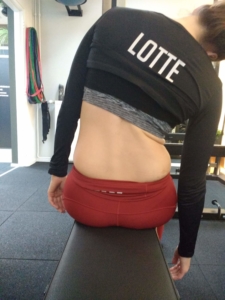 Here is what you would really want your back to look like.  Can you see the difference?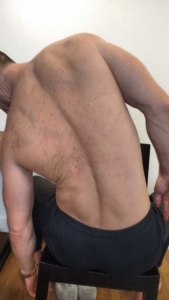 As you can imagine, when your back moves well your pelvis and upper back will also move better. Compensation is normal for your body, but when it happens over and over you can potentially create niggles, aches and pains. 
Interestingly enough, Lotte in the first photo had a sore knee and found the pelvis exercises in the first videos and some lower back work helped her to get back into running pain free.
Do you think your back moves more like the first picture?  Then this is the video for you
The video has both an exercise that will help your back loosen off as well as an exercise that promotes strength in this new movement.
Be aware that if you have back pain you might want to avoid this video and see a health professional. 
Author:
Lorna Wilson
Like what you see? Then send me a message or e-mail. We can meet up for a chat and find out how I can help you improve your training and help reduce injury risk.
06 460 377 74 / lorna@wilsonsworkouts.nl