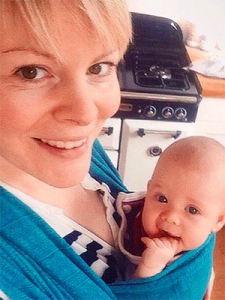 A few weeks ago I met with Michelle, founder of Mamahub, a space where parents come to seek advice on wellbeing and healthy living. Rather than using a buggy, pushchair or pram, Michelle wears her baby Cara.
Baby wearing is centuries old and has been practiced around the world in many different cultures. Working with Mums, I have the feeling that it is getting more and more popular around Amsterdam. Being hands free and not having to carry heavy buggies up stairs are only two of many benefits for both Mum and Baby. It is also a way for Mum to gradually get stronger as Baby grows, which gets a thumbs up from me as a Personal Trainer!
However, if you are experiencing pains or discomfort carrying your baby, then it is best to find out why.
Michelle's situation
Michelle is a converted baby wearer who wears her daughter out and about as well as at home. She has carried Cara for 13 months now and would like to continue for more than a year from now.
Michelle was very active before getting pregnant by cycling and doing yoga (both Iyanger and Bikram). She is a musician so won't have spent the high volume of hours sitting in front of computers like a lot of office workers.
During pregnancy she became less active and sat more and since having Cara she has been sitting even more and is aware she is becoming more slouched from breast feeding. For the last 10 years, she has been having hip pain in her right side that radiates throughout her body. When we met, she also mentioned having just started to feel pain in both knees.
Our first session
At first, I gave Michelle a thorough screening of her body, aiming to find where the movement dysfunctions were.
Most dysfunction turned out to be in her left hip, her lower back and around her right shoulder. These could all have been a consequence of sitting for long hours, holding baby more on one side than the other, using a computer and smart phone.
Improvement plan
The best place to start correcting these areas is the pelvis and then the back. I have therefore sent her off with some exercises to begin their harmonization.
Here is one of the exercises I gave her, aimed at correcting how her pelvis moves. (Then hopefully we have a photo of Michelle doing it) You press your ankle lightly into your knee (20%), hold it for 20 seconds, release. You do this 4 times on each each side for a set, 4 sets a day.
I also recommended to Michelle not to stretch some of her muscles (determined during the screening), not until we do some muscle releases and nerve releases first.
Moving forward
We'll be using upcoming sessions to assess improvements and prescribe further exercise. The plan is to work for a few more weeks on improving movement and then introduce stability work and strengthening work to help support the progresses we have done.
Do it yourself
One of the screens I did with Michelle you can try yourself. In a sitting position, lift your right ankle onto your left knee and check how high your knee falls. Then do the same with your opposite side. If one side is higher than the other then you can try the same exercise as I gave Michelle. This will help you find out if the movement in your pelvis can be improved upon.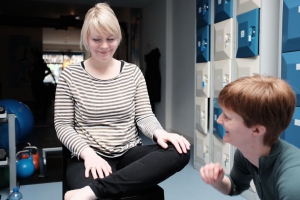 Keep in mind
How you wear your baby is very important to both you and your baby, so make sure you find a good baby wearing consultant. We suggest Melanie from 
www.AmsterdamBabywearingServices.com
.
Given that we spend so much time sitting, working in front of computers, slouching, talking on phones, it might be that you require a bit of help in your body to make sure you can wear your baby as long as possible. Wearing your baby should not give you any pain.
Author:
Lorna Wilson
Like what you see? Then send me a message or e-mail. We can meet up for a chat and find out how I can help you improve your training and help reduce injury risk.
06 460 377 74 / lorna@wilsonsworkouts.nl