Yes! Another race report. Second and final triathlon of the season was on the 25th of September at the Bosbaan here in Amsterdam. It was an Olympic distance (750m swim, 40km bike, 10km run).
It is always fun to do a local race, but as we haven't been racing for a while, this race also felt like a bit of a reunion. There are some people I will only ever see at races so it was definitely nice to catch up with them and hear how they were doing.
It felt a little bit of a rush getting set up in transition because the registration opened quite close to the start, but it was also good to not have too much time to get nervous. 
There was no swim at the last triathlon I took part in, so it was great to finally take part in my strongest leg of the race. I definitely felt that doing more open water swimming over the last year helped me. Until recently, most of my swimming was in the pool. I was a little bit faster and I felt more at home in water that is far from clear. The start of a mass swim can feel a bit hectic, but I was able to keep calm and assertive to move through and find my own space.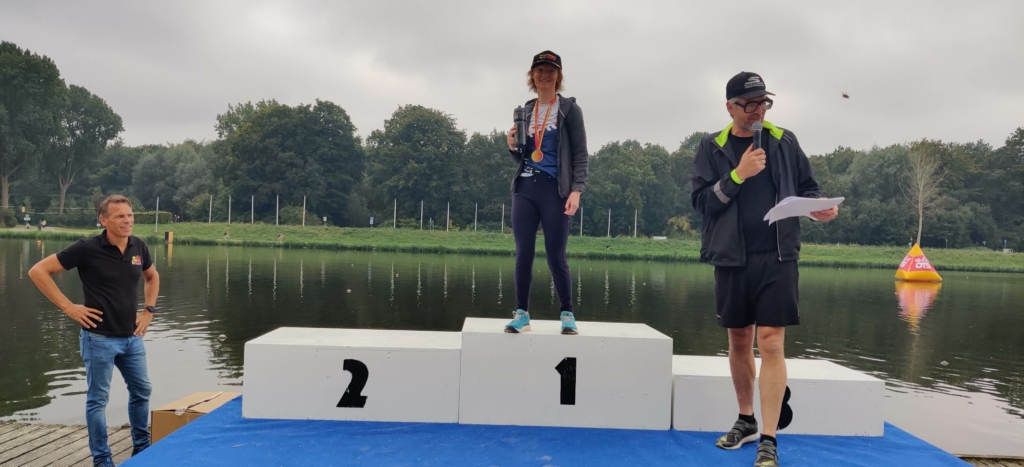 I had a fairly good transition and was quickly out on my bike. It was 4 laps. The first lap was probably the most pleasant as there were fewer people on the course. I passed someone who I knew that made me wonder if I was going too fast, but I didn't see him again so all was good. As the course became busier, it was harder to keep a steady pace. I am always overtaken, especially by fast men. Every time you are required to fall back to make sure you are not taking advantage of the slipstream. The course ended up being a bit short for the number of cyclists so there were a lot of people who were doing this. Unfortunately, I was passed in the last lap by a couple of women doing this so I felt a bit cheated. Again, my poor cornering was highlighted in this race!
Another fairly good transition and the run began. Because of the lack of racing, this part felt quite strange. I couldn't really figure out how the run should feel. Was I going too fast, or if I went faster would I last the race? In the end, I was pretty happy with how I went. 
After the race we watched some of our friends and a client take part in the sprint distance. The weather was perfect so it was a really pleasant day. 
We waited for the prize giving in case I might get something, as I didn't feel I had seen so many women around me during the race. I was surprised to get first place in my age group. And it was very cool to see that the winner of the race was in the 50-59 category. I was the 6th woman overall, really happy with that result.
I got a real buzz from this event. It really reminded me that I love to race. I woke up the next day still excited with the feeling that I wanted to do it all over again.
Doing sport or fitness really helps when you do something you enjoy. Do you make sure your fitness time is doing something you like?
If you are interested in trying out a class to see if you would enjoy it, you can for free, just sign up here.
Do you want to be kept up to date on all new articles, classes, offers, etc? Sign up to my newsletter here.
Author:
Lorna Wilson
Like what you see? Then send me a message or e-mail. We can meet up for a chat and find out how I can help you improve your training and help reduce injury risk.
06 460 377 74 / lorna@wilsonsworkouts.nl