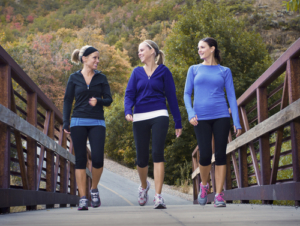 I am currently 45 and a couple of years ago I started experiencing some mild symptoms. After some reading, I realised I had started the perimenopause. This experience made me realise that this topic isn't really spoken about much. I had heard of menopause – but that is when you are 50 or so, isn't it?
But perimenopause I had only heard of because it came up by the company that taught me about postnatal training. I hadn't paid much attention at that point, however,  no-one else was mentioning it. Menopause or perimenopause – who really speaks about it? I have decided to join the growing number of women striving to eliminate the taboo around this subject.
I will speak about my own experience a bit more in a future blog and hope to learn about your experiences as well. 
What is the perimenopause?
The first time I really took time to read about it was in the book "Period Repair Manual" by Lara Briden. It has a chapter in it called "What happens in your forties". This chapter defines perimenopause as "the two to twelve years before menopause and is when you're most likely to experience symptoms".
Symptoms can be heavy or longer flow, shorter menstrual cycles, sore or lumpy breasts, waking through the night, increased menstrual pain, night sweats, increased migraine headache and new or increased PMS.
This is caused by the level of the hormone estrogen fluctuating. Sometimes it will rise higher than previously and at others, it will drop to almost nothing. Eventually, the overall level of estrogen will decline. Next to this, the progesterone is gradually decreasing. These changes can create some of the above symptoms. Women will experience this phase of life differently from each other. Some will have few symptoms and others will experience it more severely.
What is the menopause?
Menopause is defined in the "Period Repair Manual" as "the life phase that begins one year after your last period and is when many symptoms will settle down". Symptoms will calm down during this period.
Going forward, I would like to share my own experiences and do further reading and research on this subject and share with you what I find out. 
I invite you to join me in this new phase of my life and share with me your experiences. Let's break this taboo together. 
Have a look at the classes we have available and take advantage of a trial session for free.
Author:
Lorna Wilson
Like what you see? Then send me a message or e-mail. We can meet up for a chat and find out how I can help you improve your training and help reduce injury risk.
06 460 377 74 / lorna@wilsonsworkouts.nl