It was a couple of weeks back that I completed the Wormerland Sprint Triathlon, my first of 2017. I had originally planned a different triathlon  that day which was then cancelled, leaving me quite disappointed. Luckily I found another on the same day and the same distance, and that was also not so far away.
The start time was 1pm. I really dislike it when races are late in the day. It was only an hour away so I had a full morning to fill while thinking about this triathlon and finding the right food to eat at the right time. The plus side was that I had time to work on some exercises that I give to my clients to improve their efficiency. It was nice to do so without being rushed before dashing out the door. (if you are interested in these exercises you can email me to set up a free 30 minute intake to find out more)
Finally it was time to go and with a short cycle, a train journey and another cycle I was picking up my start number. I met someone I knew who kindly told me that in the competition there was a lady who had been a rower for the Netherlands at the Olympics and was a pretty serious triathlete now. That felt quite intimidating. A fellow Personal Trainer that I work alongside at Sport371 predicted a top 10 finish, but this made such a result feel far off.
Before the race there was a briefing and I was glad I went and paid attention. I hadn't realised that the run was a small loop, followed by 2 other loops. It was an all lady start so an opportunity to have a feeling of where I would be in the pack.
The swim was pretty uneventful, a non wetsuit swim of two loops. I came out to the shout of my husband, who said I was 15th (I was actually 13th) and then got a cheer from my coach who was getting set up in transition for his own race.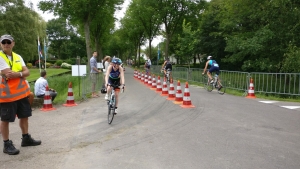 My transition went well until I had difficulty clipping into my pedals for the bike ride. I got there in the end and then I was off. Normally my cycle ride consists of loads of people passing me throughout but after the first 2 ladies went passed me I realised that there weren't many coming from behind and I actually passed a few cyclists myself! At the end of the first lap my husband shouted I was 11th so that top ten came back in view and was pretty much my motivation for the rest of the race. I immediately passed two ladies but found it quite tricky to keep track of where I was after that. This turned out to be my fastest cycle in a triathlon to date. I was in 10th place at the end of the cycle so I am really happy with how it went.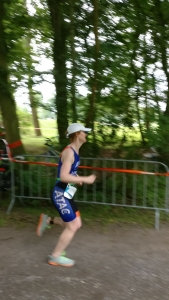 Second transition went well. I had come in with a small group of cyclists so lost track of position and was pleased to be the first to leave. I passed one more lady and started on my run. I pretty much ran the whole thing myself with only one lady passing me (I swore) and then realised she was lapping me and was already ahead of me. I'm not really a great 5km runner so in a sprint triathlon I just tried to hold onto the pace up as best as I could and in this case focusing on my top ten. I finally crossed the line to much cheering from my husband and was told I was 8th by the speaker. Later when the results were published I was really 9th.
Once done I cheered on my coach who came an amazing 4th out of the men giving us a great result all round.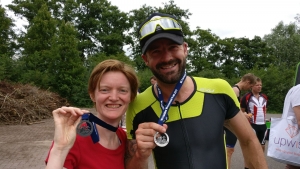 So all in all I am really happy with how my first triathlon of the season went and happy that my slow down of training due to a mole being removed didn't have a negative effect on my performance. Next one will be twice the distance so let's see how that goes.
Author:
Lorna Wilson
Like what you see? Then send me a message or e-mail. We can meet up for a chat and find out how I can help you improve your training and help reduce injury risk.
06 460 377 74 / lorna@wilsonsworkouts.nl